See on Scoop.it – Collaboration in teaching and learning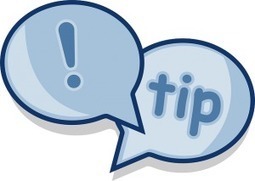 I spend a lot of time connecting with colleagues and contacts in my professional network in social networks. As I have explained in a previous post this is an essential way for me to keep up to date with what's happening in the learning world. I also mentioned how over the years I've developed a number of techniques to filter out the signal from the noise. I'm frequently asked for tips for making the most of – and managing time on – social networks, so here are 10 Tips I've garnered from around the Web.
1. Don't try and be everywhere (always-on); spend the time where it brings you most value. Here's how to spend just 30 minutes a day on social sites
2, Ask yourself, if you are getting value from those you follow/connect with? After all your personal network is for YOU. If not, it's probably time to rethink your Twitter follow strategy
3. Think carefully before you follow someone new. Use this test before connecting with someone on LinkedIn
4. Make sure you have notifications ON for the stuff you want to see, people you really want to hear from.
5. Don't try and read everything immediately, save things to read later using a tool like Pocket.
6. Are you drowning in tweets? Try using these Twitter (Android) apps – many also available for iOS.
7. Are you finding it difficult to manage all your networks, ie read, organise and schedule posts? If so try a social media dashboard like Tweetdeck, Hootsuite or Pluggio.
8. Is social media is giving you more work? For instance you are trying to share stuff you find in one network with another, then try IFTT. If This Then That lets you set up "recipes" of what to do when a trigger happens, e.g. If I send a tweet, THEN send it to Yammer.
9. Can't keep up with everything that's being shared on your networks? Then use some content curation tools to gather some of the key stuff for you. – Content curation [infographic]
10. Finally, if you don't want to be distracted by social networks, then you can block them for a specific time. But here is how to really block time-wasting websites
See on www.c4lpt.co.uk