See on Scoop.it – Links for Units of Inquiry in PYP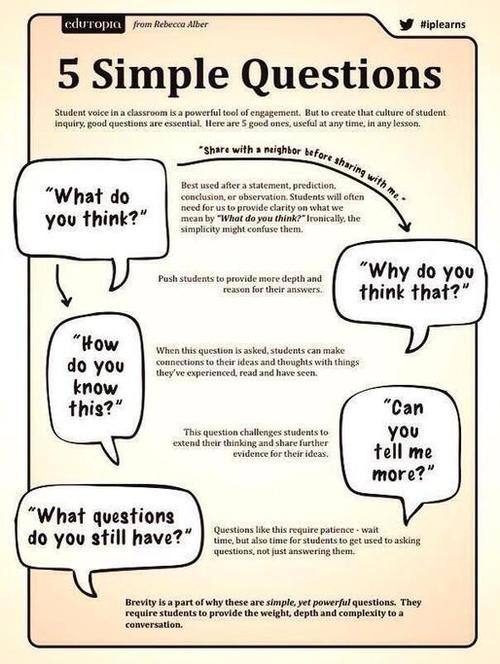 I also learned over the years that asking straightforward, simply-worded questions can be just as effective as those intricate ones. With that in mind, if you are a new teacher or perhaps not so new but know that question-asking is an area where you'd like to grow, start tomorrow with these five:
#1. What do you think?
This question interrupts us from telling too much. There is a place for direct instruction where we give students information yet we need to always strive to balance this with plenty of opportunities for students to make sense of and apply that new information using their schemata and understanding.
#2. Why do you think that?
After students share what they think, this follow-up question pushes them to provide reasoning for their thinking.
#3. How do you know this?
When this question is asked, students can make connections to their ideas and thoughts with things they've experienced, read, and have seen.
#4. Can you tell me more?
This question can inspire students to extend their thinking and share further evidence for their ideas.
#5. What questions do you still have?
This allows students to offer up questions they have about the information, ideas or the evidence.
See on www.edutopia.org