See on Scoop.it – Storytelling in the 21st Century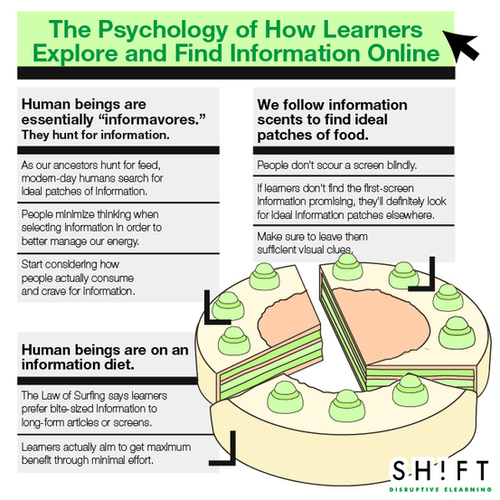 Psychologists and eLearning professionals ahave always been interested in how we consume information online.Here' re some relevant points.
Psychologists, eLearning professionals and other experts have always been interested in how we consume information online. Receiving and transmitting information are not new to us. But our entirely novel information environments are clearly shaping the way we search for and consume information. Today, "providing people with access to more information is not the problem. Rather, the problem is one of maximizing the allocation of human attention to information that will be useful."
There are too many concepts and theories to mention but the most notable among them is the "Information Foraging Theory." The term was first suggested by Pamela Sanstrom in 1994 and was later expanded by Pirolli and Stuart Card. The theory is based on the assumption that we humans use our built-in foraging mechanisms when searching for information. We inherited these mechanisms from our ancestors who forage or hunt for food. So it shouldn't surprise us that, today, we voraciously hunt for information instead of hunting for food.
See on info.shiftelearning.com